Here is where you can stay informed about current and former titleholders as well as updates regarding the Miss Kentucky Scholarship Organization and its many volunteers on the local and state level. If you have any news to contribute please email us and let us know so that we can share it with everyone. Local pageant results and photos will be posted if information is received. Any submissions for this section of the website should be sent to Justin Rains at

misskentuckyprogram@yahoo.com

.
If you would like to receive email updates and be added to our mailing list, please fill out the form below. Remember, you can now follow Miss Kentucky on Facebook and Twitter for all the latest in news and events. See the links on the homepage for more details.

The Miss Kentucky Scholarship Organization regretfully announces the passing of Miss Kentucky 1959, Carol Fairchild Brown Hubbard.

Carol Fairchild Brown Hubbard, 75, of Elizabethtown, formerly of Whitesburg, passed away on Saturday, October 17, 2015 at University Hospital in Louisville.

Carol represented the Commonwealth of Kentucky at the 1959 Miss America Pageant. She was a retired elementary school teacher for 27 years in Pulaski County and Hardin County, as well as a tireless volunteer for various charities including the Elizabethtown Animal Shelter and PAWS Shelter Foundation of Elizabethtown.

Carol was preceded in death by her parents, James R. and Sybil Mullins Brown and a brother, Jimmy Brown.

She is survived by her three daughters, Cindy Lou Howard of Louisville, Leigh Ann Howard, of London, and Melinda Grace Howard Halow of Carson City, Nevada; three grandchildren, Jasmine Halow, Savannah Halow, both of Carson City, and Chase Carson of London; a brother, John Brown "John Bill" (and Mary Jane); a nephew, John Brown II (and Inace); and a great niece, Lilly Brown.

A celebration of life will be held on Saturday, October 24 from 2-4 p.m. at 238 Helm

Street in Elizabethtown.

In lieu of flowers, donations can be made to Paws Shelter Foundation at P.O. BOX 1116, Elizabethtown, KY 42702-1116.
| | |
| --- | --- |
| | The Miss Kentucky Scholarship Organization wishes Miss Metro Louisville 2015, Hannah Estes, the best of luck as she represents Kentucky at the National Sweetheart Pageant in Hoopeston, Illinois, during the week preceding Labor Day. The pageant is held in conjunction with the National Sweetcorn Festival and is an annual event dating back to the 1940s. Runners-up representing numerous Miss America state programs are invited to participate in this pageant where they can win additional scholarships and compete at a national level program similar to the Miss America Pageant. It is a great experience and exciting opportunity and we know that Hannah will represent Kentucky very well. |
 

Be sure to make plans to attend the 2015 Miss America Pageant in Atlantic City. Use Family & Friends Code:

Celebrate95

This code may be used to purchase tickets directly from MAO. As in years past, all state tickets will be seated together based on the "State You Support" which is found on the Family & Friends order form. Priority seating will be given to Season Ticket holders.





Witness every exciting minute of the Miss America Competition with tickets to the highly-anticipated, multi-night event. Tickets are now on sale to all three preliminary competitions on Tuesday - September 8th, Wednesday - September 9th, and Thursday - September 10th, as well as admission to the final night of competition on Sunday - September 13, 2015, at Boardwalk Hall in Atlantic City, broadcast live on ABC.



In both the preliminary and final night competitions, ticket holders will witness contestants vie for the crown in categories including Lifestyle and Fitness in Swimsuit, Evening Wear, Talent, and an On-Stage Question.

On September 13, audience members can cheer on their favorite contestant as a panel of celebrity judges determines who is crowned the new Miss America live on ABC!


| | |
| --- | --- |
|   | Due to complications from an injury she has sustained, Haely Studebaker will be unable to compete for the title of Miss Kentucky and has resigned as Miss University of Kentucky. Please keep Haely in your thoughts during her recovery. |
| | |
| --- | --- |
|   | Congratulations to Natalie Johnson who recently accepted the Miss University of Louisville title after the resignation of the original winner due to unforeseen circumstances. |
| | |
| --- | --- |
|   | Ramsey recently had the opportunity to meet with Jack Osbourne to talk about the work they both have been doing with Multiple Sclerosis and potential opportunities for future partnership. They are pictured above at this recent meeting in Lexington. |
| | |
| --- | --- |
|   | The Miss Kentucky Scholarship Organization would like to extend our deepest condolences to the family of Miss Kentucky 1937, Audrey Flaig Barth, who died on March 1, 2015. A longtime resident of Wayzata, Minnesota, she is survived by three daughters, five grandchildren and nine great-grandchildren. |
 

The top eight finalists for this year's Miss Kentucky's Outstanding Teen Community Service Award were announced at dance rehearsal on Sunday, June 1st. The top eight finalists pictured above are: Wayne County's Outstanding Teen Molly Dalton, River City's Outstanding Teen Bailey Wharton, Lexington Legends' Outstanding Teen Caroline Ford, Belle of Louisville's Outstanding Teen Logan Hornback, Thoroughbred Cou

ntry's Outstanding Teen Kennedy Sabharwal, Laurel County Homecoming's Outstanding Teen Emilia Bustle, Mammoth Cave Area's Outstanding Teen Chapel Tinius, and Richmond Area's Outstanding Teen Allyson Ledford. The winner will be announced during the Miss Kentucky's Outstanding Teen finals on Saturday, June 14 at the Center for Rural Development in Somerset!



| | |
| --- | --- |
|   | Due to conflicts with educational and professional opportunities Bendra Worley and Shelby Stringer have resigned their local titles. The new Miss Laurel County Homecoming is Morgan Hunt and the new Miss Somerset Community College is Ashley Johnson. |
| | |
| --- | --- |
|   | June Clark has resigned the title of Miss University of Louisville and we are pleased to announce that Megan Devine is the new representative and will compete as Miss University of Louisville in the 2014 Miss Kentucky Scholarship Pageant. |
| | |
| --- | --- |
|   | We are sad to report the passing of Ed Norman who served on the Miss Bowling Green pageant for many years and was also the piano instructor for Miss Kentucky 2011, Ann Blair Thornton. Please keep his family in your thoughts and prayers. CLICK HERE FOR A LINK TO HIS OBITUARY |
 

Bob Haven, retired UK Theater Dept. Professor
and owner of the Bead Embroidery, & Design Studio, will appear in a filmed segment on WKYT/TV on Thursday April 3, 2014. He will be featured with DeAnn Stephens on her "Out & About " segment between 4-5 PM.

Not only does she interview him about his career as an instructor and designer, but about his work with the Miss Kentucky Scholarship Organization. Be sure to tune in or set your DVR!
| | |
| --- | --- |
|   | We are sad to report that one of the board members of the Miss Bowling Green Scholarship Pageant died this evening. Dr. David Coffey, agriculture professor at WKU and Miss Bowling Green Board member passed away from complications with cancer. David was the pageant's academic advisor and big help in interview prep for their titleholders. Please keep his family in your thoughts and prayers. |
| | |
| --- | --- |
|   | Miss Thoroughbred Country 2014, Katie Himes, recently was featured on WLEX in Lexington for her "Bully Bashers" platform work. CLICK HERE FOR LINK TO A VIDEO. |
 



Claire Butler, Miss Bowling Green 2014

Claire Butler, Miss Bowling Green 2014, recently spoke to Girl Scouts of America troop 476. The troop is currently focused on issues facing young women in America. Claire's platform, "The Confidence Coalition: Confidence is Key" coincides with the Girl Scout's goal to teach, instill and support confidence in their membership. As a classically trained opera singer, Claire shared her story of how confidence has been the key to her singing success as well as how confidence helped her over come bullying during adolescence. Her goal is to reach everyone with the power of confidence and positive presentation.



| | |
| --- | --- |
|   | Miss River City's Outstanding Teen, Bailey Wharton, recently lobbied in the state capital for a bill that would ban tanning bed use among minors. CLICK HERE FOR LINK TO A VIDEO. |
| | |
| --- | --- |
|   | Katie Himes, Miss Thoroughbred Country was recently interviewed by WCYN radio about her work with her platform Bully Bashers and her journey to Miss Kentucky. |
 

Molly Dalton, Miss Wayne County Area's Outstanding Teen and MaKayela Banks, Miss Monticello's Outstanding Teen recently attended a benefit for a little girl suffering from cancer in their community named Maddison. They brought her gifts and spent the night playing with Maddison and her brother. They also got to meet Jimmy Rose from America's Got Talent who was the main supporter of the project.



Molly and MaKayela with Jimmy Rose
 

Bailey Wharton, Miss River City's Outstanding Teen and Claire Butler, Miss Bowling Green recently served as celebrity waiters to help raise funds at the Cystic Fibrosis dinner in Louisville.



Bailey with Olivia Henken, singer and former Miss KY contestant



Bailey with famous jockey, Pat Day.
| | |
| --- | --- |
|   | The Miss Kentucky Board of Directors is pleased to announce the addition of two new Board members, Djuan Trent and Ashley Miller. Both of these young women have a great understanding and perspective of this program. Each began their affiliation with this program as a contestant. As a former Miss Kentucky, Djuan has an understanding of the job and the responsibilities. As a former local director Ashley has a good local perspective. We are confident both will continue to serve this program well in their new capacity. |
| | |
| --- | --- |
|   | Miss River City's Outstanding Teen 2014, Bailey Wharton, was recently featured in an article in the Oldham Era regarding her involvement with the Miss Kentucky's Outstanding Teen Program and her personal platform issue of skin cancer awareness. |
| | |
| --- | --- |
|   | Miss Derby City's Outstanding Teen 2013, Malia Diniz, recently had an article published in the Louisville Courier Journal newspaper regarding her personal platform issue of suicide prevention. |
| | |
| --- | --- |
|   | Please keep Miss Kentucky's Outstanding Teen Co-Director, Shane Hensley, in your thoughts and prayers as his father, Raymond Hensley, passed away this morning. Visitation will be wednesday, october 2nd, beginning at 6 pm at carmichael community church (20 W Highway 3094 E, East bernstadt). The funeral services will be held on Thursday, october 3rd, at 2 PM also at carmichael community church. |
| | |
| --- | --- |
|   | The Miss Central Kentucky Scholarship Organization is sponsoring an Interview Workshop on Saturday, September 21st from 9:00 AM to 4:00 PM. If you are thinking about competing this year it is a great opportunity to "brush up" on your interview skills. You will have 2 interviews and receive a verbal critique. The time slots are limited to the first 20 contestants that email kknight@elmcroftseniorliving.com. You will receive a returned email to confirm your time slot and location of the workshop. To participate in the workshop you will need to bring a "Sack of Blessings" with you that will be donated to Blessings in a Backpack (details to follow). |
| | |
| --- | --- |
|   | If you are planning to attend the 2014 Miss America Pageant and would like to receive a badge to attend rehearsals and visitation they will be $40.00. If this is your first time receiving a badge you will need to mail your payment along with a photo disc labeled with your name to Jamie Breeding at 3284 Shoal Lake Drive, Lexington, KY 40515. If you have received a badge in the past you will not need a new photo but all payments and photo discs must be received at the State office no later than Wednesday July 24th. Check should be made payable to the Miss Kentucky Organization and Jamie will send in one payment for all badges to Miss America. |
 

Tune In alert!

For those of you in the Louisville broadcasting area, Jenna will be a guest on WHAS-11's Great day live show on thursday, July 11, at 9 AM.
 

Miss AMERICA SHOW US YOUR SHOES PARADE TICKETS ON SALE

DATE OF THE PARADE: SATURDAY, SEPTEMBER 14

The Miss America Organization announced tickets are now on sale for the Show Us Your Shoes Parade.

The return of this spectacular event will feature Miss America 2013 Mallory Hagan, plus 53 beautiful Miss America contestants competing for the crown. The Parade will also highlight legendary Miss Americas, along with elaborate floats, marching bands, special units, SURPRISE performances and special guests. It is a parade that you don't want to miss. The tradition returns to the boardwalk!

The Miss America Show us Your Shoes Parade will be produced by 2 time EMMY Award winning producer John M Best and his team from JM Best Entertainment and Under the Sun Productions. The team has successfully produced National Parades in cities throughout the country.

The Miss America Parade will be a two hour event with step off at 5PM and will continue on the two mile long famed Atlantic City Boardwalk. The Parade will be a celebration that will lead into the final night of the Miss America 2014 Competition live on ABC in Atlantic City in the historic Boardwalk Hall on Sunday, September 15.

Parade tickets are $20.00 each:

Click here to purchase your tickets today

or order by phone at: (215)893-1999 7 days a week, 9am-8pm EST.



 



Megan Lineberry and Ramsey Carpenter interviewed on WBKO

In anticipation of the Miss Kentucky Pageant next week Miss Bowling Green, Ramsey Carpenter and Miss Mammoth Cave Area, Megan Lineberry, were interviewed by WBKO TV in Bowling Green. You can see a photo of them above.
| | |
| --- | --- |
| | Miss Mammoth Cave Area, Megan Lineberry, was recently invited to be a featured performer at the Miss Missouri Pageant. She performed her talent piece, a violin solo entitled "Zigeunerweisen" during the Friday night preliminary competition of the pageant. |
 

The Miss Kentucky Organization is sad to announce the passing of former pageant director, Betty Hamilton, who headed the pageant for many years when it was held in Louisville from the early 60s to the late 80s. Visitation for Mrs. Hamilton will be at Pearson's Funeral Home (149 Breckinridge Lane) in Louisville on Saturday, June 1st from 10 AM to 12 PM with the funeral following at 12:30 PM.

Here is her obituary which appeared in the Lexington Herald-Leader:

Betty McCown Hamilton, of Louisville entered into eternal life with her Lord on May 29, 2013. She was preceded in death by her parents, B.A. McCown and Thelma Flanary McCown of Pikeville, KY. She was graduate of Virginia Intermont College, Bristol, VA. Betty also attended Virginia Commonwealth University in Richmond, VA. She was active in many Louisville civic endeavors for over 30 years. She served as president of the "Colonelettes", the downtown Louisville Jaycee Wives Club, which was very active in local civic improvement projects in the 60's. Also, Betty is remembered for her work as Executive Director of The Miss Kentucky Scholarship Pageant, leading to the Miss America Pageant. This included guiding the state-wide local pageant preliminaries as well as overseeing the annual televised Miss Kentucky Pageant in Louisville for 26 years. Her guidance and enthusiasm touched many hundreds of aspiring young women throughout Kentucky to be the best they could be in pursuit of their personal goals. For Betty, this was her labor of love for years. She is survived by her husband of 58 years, William Hamilton, and her two loving daughters, Nickey Miller (Thomas) of Camp Hill, PA, and Lynn Hamilton of Haymarket, VA. The family would like to thank the ICU medical staff at Baptist East Hospital for their true professionalism and kindness. A celebration of Betty's life was held Saturday June 1, 2013 at Pearson's Funeral Home, 149 Breckinridge Lane. Burial followed at Cave Hill Cemetery, Louisville. Expressions of sympathy may be made to Wounded Warriors Project, PO Box 758517, Topeka, KS 66675.
 



Some of the Bluegrass Area titleholders at WLEX 18 in Lexington

Recently, four titleholders from the Miss Bluegrass Area Organization were interviewed by Lee Cruse on WLEX Channel 18 in Lexington about their Miss Kentucky and MKOT preparations. Click the link above to view the video from their appearance.
 



Warren Buffett with Kennedy Sabharwal, Sawyer and Spencer

Congratulations to Miss Pre-Teen Kentucky 2012, Kennedy Sabharwal, who along with her brother Spencer and cousin Sawyer won Warren Buffett's Grow Your Own Business Challenge for Kids! They won $15,000.00 and 30 shares of Mr. Buffett's Berkshire Stock. Mr. Buffett's company will now help Kennedy, Spencer and Sawyer to get their business started! Kennedy was chosen as the spokesperson at a luncheon for Mr. Buffett, selected from more than 4,000 kids.
 

The 2013 Silks In The Bluegrass




Derby Night Benefit for Operation Open Arms




This event will take place on Derby night May 4th in Louisville at the Crown Plaza Hotel, 830 Phillips Lane. This event is to benefit the children of incarcerated mothers. Our current Miss America, Mallory Hagan will be present to speak. There is a need for 12 -15 volunteers to assist as greeter, working the registration table, assisting guests to find their tables. There will be a photo opportunity with Miss America at the end of the evening. One lucky volunteer will be selected at random to present Mallory with roses!




The guest will be arriving after a day at Churchill Downs so the dress for volunteers will be a conservative dressy dress (not formal).

Arrive at Crowne Plaza Hotel at 5:30pm Ending at 10:30 pm.





Meet at Silks Registration Desk across from Crowne Ballroom.




Dinner will be provided for the group before the event starts.




This will be open to all Miss and Teen contestants, however, this is limited to the first 15 to respond. You will need to contact Leslie Day at (502) 648-5733 or email at day.leslie@insightbb.com. For more information about this event you can go to www.oparms.org Only volunteers will be included in the photo session with Miss America, so bring your cameras. If anyone is interested in attending the event the tickets are still available.
| | |
| --- | --- |
|   | To honor the passing of long time Miss Kentucky board member and Miss America devotee Robert Pinson the Miss Kentucky Organization will be accepting donations for a memorial scholarship in Robert's honor which will be presented at the 2013 pageant in June. If you would like to contribute you may send donations to Executive Director, Jamie Breeding at 3284 Shoal Lake Drive, Lexington, KY 40515 or you may also donate via PayPal through the donation link below: |
 



l to r: Laura Jones, KaShara Garrett, Hayley Franklin and Andrea Walker

The final local preliminary of the season was held on March 30th and the new Miss Grayson 2013 is KaShara Garrett and the new Miss Heart of the Parks 2013 is Hayley Franklin. They are pictured above with last year's winners Laura Jones and Andrea Walker. Additionally, Miss Grayson's Outstanding Teen is Alexandra Francke and Miss Heart of the Parks' Outstanding Teen is Elizabeth Dugan.

Miss Heart of the Parks, Hayley Franklin, would also like to let everyone know that there will be a Relay for Life 5K on April 13th in Carrollton, KY and a "Pageant Prep" day being held on May 25th for girls of all ages to have a day being treated like a princess. All proceeds from both events will go toward her platform: The American Cancer Society/Relay for Life and are being coordinated by Hayley and her Relay Team. They are also hosting a 3 on 3 basketball tournament and Auto Show on June 1. If anyone is interested in any event they can contact Hayley at

502-525-3571.
 



Annie Franklin with Kentucky Speaker of the House, Greg Stumbo

Miss Bluegrass Area 2013, Annie Franklin, recently spent the day in Frankfort at the Capitol for Arts Day working on her Platform, H'Art Of The Matter: Much More Than Art. Annie worked with the Speaker of the House and several different representatives that day making a difference for the Arts.
| | |
| --- | --- |
|   | Miss Bowling Green 2013, Ramsey Carpenter, was recently featured on Bowling Green Today promoting Multiple Sclerosis Awareness Week beginning March 11th. You can view her interview below: |
 

Tuesday, February 5th, was National Pancake Day and in celebration of this day IHOP restaurants annually team with Children's Miracle Network Hospitals to raise funds. Miss America is in partnership with CMNH so many titleholders nationwide also joined in these events. Miss Central Kentucky's Outstanding Teen, Bailey Wharton, has submitted a few photos from her day of service at IHOP serving up pancakes and greeting the public.



Donations for CMNH were accepted at IHOP restaurants nationwide



And a free short stack of pancakes was available to everyone on Pancake Day
 

Miss Kentucky 1938, Evelyn Cooper Berson, is an acclaimed artist whose paintings have been displayed in galleries in New York City. Now one of her works is currently on display locally at Solaris Gallery in Versailles (224 Yellow Jacket Drive). The painting, shown above, was a gift from Evelyn to Miss Kentucky 1951, Dottye Nuckols Lindsey. Dottye's sister, Diana Peters, inherited the painting from her sister's estate and decided to share it with the community to honor her sister and Evelyn, both distinguished former Miss Kentucky titleholders.

Here is some information about Evelyn Cooper Berson:

Evelyn Berson is an expressionist painter who treats a personal vision of reality from primarily emotional, rather than objective, experiences. Critics have called her work "poignant" and "mystical." The brushwork has been described as "anarchic energy."

"What I really like," Berson says, "is the freedom I feel when I approach an empty canvas--a challenge to bring this subject to life to be carried along without restraint as far as I wish to go. Somehow I feel this experience brings me closer to knowing myself and perhaps to a better rapport with those around me."

Trained at the Art Students League and the National Academy of Fine Arts in New York City, Berson has exhibited and wo awards in many national juried competitions, including the Audubon Artists, the Allied Artists of America, the National Arts Club, Knickerbocker Artists, Catherine Lorillard Wolfe Inc. and the National Academy of Design. In addition, she is a life member of the Art Students League.

Evelyn Berson is represented in the Museum of Arts and Sciences in Statesville, North Carolina. Her paintings are in private collections in the United States and Europe. In 1990, the Art Students League of New York purchased a Berson Painting for its permanent collection.

Born in Somerset, Kentucky, Berson has traveled extensively in the Far East, Europe and India and lived for one year in Paris, France. Since 1951 she has made New York City her home..
 

Many people attended the 2013 Miss America Pageant in Las Vegas to support Miss Kentucky, Jessica Casebolt, who placed in the top 15 at the national pageant. Among them was Kennedy Sabharwal, Pre-Teen Miss Kentucky 2012. She is shown in the pictures above and below at the pageant.



Kennedy on the Miss America stage
 

Many local titleholders have been busy this holiday season with volunteer activities in their communities. Thank you to Bailey Wharton, Miss Central Kentucky's Outstanding Teen, for providing us with some photos of these events.



Toys For Tots



Dream Factory Christmas Party - Kaitlin Denney, Kyle Hornbeck & Bailey Wharton



Bailey Wharton reading to local elementary school children
| | |
| --- | --- |
|   | Here is a photo of Miss My Old Kentucky Home's Outstanding Teen, Abby Easterling, volunteering for the Salvation Army during the holiday season. |
 

The Miss America Organization is proud to announce that the

2013

Miss America

Competition Magazine is now underway and

will be the perfect holiday treat for you and your friends!

This 2013 special edition, is better than ever! In addition to the features on our 2013 contestants – it also includes hundreds of photos, current news about Our Miss Americas and highlights of Miss America 2012 Laura Kaeppeler's year of service, and so much more. This is a keepsake you'll treasure for years to come!

This special edition is $20 per magazine (plus shipping), and is the perfect gift of the season. To get your issue in time for the holidays, please go to https://secure.missamerica.org/magazine/status.asp
 

It is with deep sadness that we announce the passing of Miss Kentucky Board member and huge supporter of the Miss America program Robert Pinson. Below is his obituary and information about his memorial services:

| | |
| --- | --- |
| Age: | 58 |
| Visitation: | Visitation will be in the J.W. Call Funeral Home Chapel, Friday from 5 p.m. until 9 p.m. |
| Funeral Service: | Funeral services will be 2:00 p.m. Saturday, November 17, 2012 at the J.W. Call Funeral Home Chapel with Kaminski Robinson officiating. |
| Interment: | Burial will follow in the Pinson Family Cemetery. |

Robert Dotson Pinson, age 58 of Pikeville, passed away Wednesday, November 14, 2012 at his home.

He was owner and operator of Pikeville Jeweler's and former owner of Pinson Hotel. He was member of the board for the Miss Kentucky Scholarship Pageant and very involved with the Miss America Pageant system. He was a member of the First Baptist Church of Pikeville.

Robert was born in Pikeville, Kentucky on February 7, 1954 the son of the late Blake and Anna Rae Dotson Pinson.

He is survived by one brother, Larry Blake Pinson and his wife, Gayle of Campbellsville, Ky.

Three nieces, Anna Gayle Pinson of Pikeville, Ky., Lisa Marie Sizemore and her husband, Rory of Richmond, Ky., and Lesley Nicole Anderson and her husband, Chris of Raccoon, Ky. and one great-nephew, Blake Douglas Anderson.

He is also survived by a host of loving cousins and very dear friends.

Serving as Pallbearers will be, Homer Gibson, Skip Wells, Randall Osborne, Chris Anderson, Robbie Spears, J.J. Walker and Rory Sizemore.

Serving as Honorary Pallbearers will be, Sara George, Jeanette Anderson, Jennifer Perry, Bob Hale, Marsha Hale, Burlin Coleman, Jean Coleman, Harold Shockey, Jean Shockey, Martha Ridenour, Steve Hogg, Mary Jo Blackburn, Eddy Coleman, Pat Burchett, Bill Baird, Kay Baird, Joyce Runyon and members of his bridge club, Pam Osborne, Lynn Anderson, Reed Anderson, JoNell Robinson, Brenda Rohrer, Cathy Bartley, Carolyn Justice, Francis Coleman, Pam Howard and Barbie Bow

In lieu of flowers the family requests that contributions be made in his memory to the Miss Kentucky Scholarships Org., 3284 Shoal Lake Dr., Lexington, Ky. 40515 or the Pike County Humane Society, 162 Honeysuckle Dr., Pikeville, Ky. 41501.
| | |
| --- | --- |
|   | The Miss Harlan County pageant was held on November 3rd at Harlan County High School's Auditorium. Miss Harlan County 2013 is Courtney Norvell and Miss Heart of the Mountains 2013 is Cayce Crowder. Additionally, Makayela Banks was crowned Miss Harlan County's Outstanding Teen 2013. |
| | |
| --- | --- |
|   | The Miss Bowling Green pageant was held on November 12, 2013 at Van Meter Auditorium on the campus of Western Kentucky University. The new Miss Bowling Green is Ramsey Carpenter and the new Miss Mammoth Cave Area is Megan Lineberry. Additionally, Miss Bowling Green's Outstanding Teen was crowned and she is Caroline Ford and Miss Mammoth Cave Area's Outstanding Teen is Abigail Stanley. The winners are pictured above with pageant director George T. Reed. |
You can now follow the Miss Kentucky Organization on Twitter and Facebook.
Miss Kentucky Pageant Facebook
Miss Kentucky Pageant Twitter
 

Miss America Local Pageants Insurance Coverage

Miss America local pageant organizations should have insurance coverage in place before the date of their local pageant competition. For years now the K&K Ins. Group has provided local pageants affiliated with the Miss America Organization the insurance coverage necessary for the local events. Local pageant organizations are to contact the association's agent--John Gallaher at 573-581-8330.

Please notice the attachment and the insurance company's website address,

There is a link at the bottom of the opening page of the website "Click here to order a pageant certificate of insurance"

Ideally this should be done very early in the pageant year. A document showing that you have insurance coverage from accident and liability is often times required by venues before they will approve use of their facility.

The Miss America Organization is proud to announce that negotiations with a new vendor, New York based

K.A. Concepts

, have been finalized. As the new "official" crown provider, K.A. Concepts will supply the official State, Local, Outstanding Teen and Princess Crowns to all of our local and state organizations.

A link to the K.A. Concepts' crown store can only be found in the password protected Miss America Resource Portal located at
www.maoproperties.com
*. The secure shopping page will enable registered resource portal users to order the crowns on-line and pay with a credit card.
Everyone who registers is verified with State Executive Directors before access to the resource portal is granted.
The secure shopping page will enable registered resource portal users to order the crowns on-line and pay with a credit card.
To order by phone, please call K.A. Concepts Ltd. at 1-800-528-4926. If you prefer to order by fax or mail: Please click on the banner above, shop, print and fax the shopping cart page with payment and preferred shipping information to fax: (631) 425-2332 or mail the shopping cart page with your check to: K.A. Concepts Ltd., 3 Somner Drive, Huntington station, NY 11746.

The prices remain the same and all crowns are required to be ordered through K.A. Concepts.
Contestants at the local this year now have the opportunity to raise donations for the Miss America Organization's new national platform the Children's Miracle Network. To begin, register at:

If you are doing this for the first time you will need to click on "New Contestants" and set up your profile. You must upload a .jpeg picture of yourself. Then you can send emails to friends and family to obtain donations. Contestants must raise $100 per each local entered. After competing in 4 local pageants and raising $400 at the local level a contestant may enter as many local pageants as she would like without having to raise additional funds at the local level. An additional $250 beyond the local donations must be raised in order to compete at the state level. Please email Lisa Ratliff at

misskyscholorg@yahoo.com

if you have any questions or you may contact the local director(s) with questions as well.



| | |
| --- | --- |
| | Sashes are back after nearly a two decade absence. The Sash Company is the new, official sash supplier for the Miss America Organization. Miss America, Miss Kentucky and all the other 51 state representatives will be wearing offical sashes from The Sash Company. Sashes are not mandatory to be awarded at local pageants at this point but they certainly make a lovely addition to the winner's prize package. Please visit The Sash Company's website, www.thesashcompany.com, to view the new sash line. |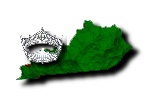 For more information about the Miss Kentucky Scholarship Pageant please contact us at:




Miss Kentucky Scholarship Pageant

Attention: Dr.Ashley Anderson, Executive Director

P.O. Box 22923

Louisville, KY 40252

Email: misskentuckypageant@gmail.com

Visit the official Miss America website: