Here is where you can take the first step to becoming Miss Kentucky by entering one of the local scholarship pageants held throughout the year across the state. Please check back frequently for updates.
Links to pageant locations are provided when available, otherwise location addresses are given to assist those interested in attending and the show times are posted. Contestants will need to check with directors for rehearsal and interview times. Information will be added when it has been provided and okayed by the state director. Names of the 2018 titleholders will be added once verified with regional or local directors.
For additional contestant information regarding eligibility and participation qualifications and Children's Miracle Network fundraising requirements please visit the Contestant Information section of this website. If you are interested in directing a local preliminary contact Dr. Ashley Anderson at misskentuckypageant@gmail.com.
***Directors and Contestants should be aware that the talent time limit is 90 seconds***
***Directors and Contestants should also be aware that contestants who have competed at Miss Kentucky or Miss Kentucky's Outstanding Teen cannot enter the same local pageant the following year in order to win a different title within that local organization (this includes teens moving up to the miss division). Contestants must wait a year before representing the same local organization at the state level in teen and/or miss.***
In accordance with Miss America rules and at the discretion of the Miss Kentucky Organization, fair & festival pageant winners may participate in the state competition if they meet entry rules and eligibility criteria. Interested fair & festival pageant directors should contact the state organization at misskentuckypageant@gmail.com.
Fair & Festival titleholder names competing in Miss Kentucky will be added to the official contestant listing once all mandatory fees have been received.
All 2018 local preliminaries must be held prior to April 1st.
The 2018 Miss America Day of Service will be on Saturday, April 7th. 2018 Miss Kentucky contestants must keep this weekend open as it will most likely also include Miss Kentucky orientation events. Attendance is mandatory unless special permission is granted by the Miss Kentucky Board of Directors.

2018 Miss Kentucky Contestants
Miss Bath County, Alyssa Williams
Miss Belle of Louisville, Rebekah Lee
Miss Derby City, Brooke Way
Miss Goldenrod, Molly Sullivan
Miss Heart of Louisville, Meredith Ellis
Miss Horse Capital of the World, Alex Housman
Miss Jefferson County, Katie Bouchard
Miss Magoffin County, Elivia Gibson
Miss Nibroc Festival, Emily Sharp
Miss Thoroughbred Country, Makayela Banks
Miss Tops in Lexington, Abbigaile Gibson

2018 Miss Kentucky's Outstanding Teen Contestants
Miss Belle of Louisville's Outstanding Teen, Hannah Martin
Miss Derby City's Outstanding Teen, Hannah Harrison
Miss Heart of Jefferson County's Outstanding Teen, Brooklyn Roller
Miss Heart of Louisville's Outstanding Teen, Rachel Whitehouse
Miss Horse Capital of the World's Outstanding Teen, Chloe Yates
Miss Jefferson County's Outstanding Teen, Haven Wolfe
Miss Thoroughbred Country's Outstanding Teen, Eleanor Ickes
Miss Tops in Lexington's Outstanding Teen, Courtney Rager

LOCAL PRELIMINARY PAGEANTS

Miss Woodford County / Miss Falling Springs Scholarship Organization
October 21, 2017

The Kingdom Center
(817 WInchester Road, Lexington)
Director: Monica Lacovitch
2115 Lisa Circle
Lexington, KY 40505
859-433-5840
(Open Statewide)
(includes Outstanding Teen division)

Miss Bowling Green / Miss Mammoth Cave Area / Miss Western Kentucky Scholarship Organization
November 5, 2017

(Hilltop Drive - Bowling Green)
Director: Regina Webb
1250 Westen Street
Bowling Green, KY 42104
270-792-1015
(Open Statewide)
(includes Outstanding Teen division)

Miss Monticello / Miss Wayne County Area Scholarship Organization
November 11, 2017

(2 Kenny Davis Boulevard, Monticello)
(Open Statewide)
*includes Outstanding Teen division open statewide

Miss Danville / Miss Heart of Central Kentucky Scholarship Organization
January 27, 2018

Gravely Hall, Danville High School
(203 E Lexington Avenue)
Directors: Susan Smith Parks & Reuben Harness
306 E First Street
Perryville, KY 40468
(859) 319-8427 (Susan)
(585) 364-4227 (Reuben)
(Open Statewide / Closed to Boyle, Lincoln & Mercer County)
(Includes Outstanding Teen division)

Miss Richmond / Miss EKU Scholarship Organization
February 24, 2018
Madison Central High School Auditorium
(705 N 2nd Street, Richmond)
Director: Melanie Greene
907 Turnberry Drive
Richmond, KY 40475
859-576-9779 (H)
859-455-9000 (W)
(Open Statewide/Closed to EKU Students)
(includes Outstanding Teen division)
POTENTIAL LOCAL PAGEANTS THAT HAVE NOT SET A DATE FOR 2018

Miss Capital City / Miss Frankfort Scholarship Organization
Frankfort High School
(328 Shelby Street)
Director: Courtney Nitz
195 Roaring Springs Lane
Midway, KY 40347
502-727-7807
(Open Statewide)
(Includes Outstanding Teen division)

Miss University of Kentucky / Miss Lexington / Miss Fayette County Scholarship Organization
(Corner of Rose & Euclid, Lexington)
Directors: Aleigh Oney-Zimmerman and Alex Davis
7414 Lake Park Road
Suite 5102
Lexington, KY 40502
606-831-9771 (Aleigh)
606-424-4932 (Alex)
(Closed to current University of Kentucky students / Open Statewide)
(includes Outstanding Teen)


Miss University of Louisville / Miss Cardinal Country Scholarship Organization
TBA
Director: Courtney Puckett
543 Mallard Creek Road
Louisville, KY 40207
(859) 630-8231
(Closed to University of Louisville part-time/full time/graduate students and alumnae)

Miss Black U of L Scholarship Organization
Strickler Hall
(2301 S 3rd Street, Louisville)
Director: Martin Williams
222 Eastern Parkway
Louisville, KY 40292
(678) 457-8937
(Closed to University of Louisville students)
LOCAL PAGEANTS THAT HAVE ALREADY BEEN HELD FOR 2018

Miss Magoffin County Scholarship Organization
September 1, 2017

(239 S Church Street, Salyersville)
Director: Jincy Bailey
217 Kelly Branch Road
Salyersville KY 41465
513-967-7490 (Cell)

(Closed to Magoffin, Floyd, Morgan, Johnson & Breathitt Counties)

Miss Jefferson County / Miss Belle of Louisville Scholarship Organization
September 16, 2017
Conrad Bachman Auditorium
Valley Traditional High School

(10200 Dixie Highway - Louisville)
Director: Pamela Bratcher
Assistant Director: Sarah Wise
PO Box 58145
Louisville, KY 40268
502-386-4479 (Pam)
502-303-2982 (Sarah)
(Open Statewide, includes Outstanding Teen division)

Miss Horse Capital of the World / Miss Tops In Lexington Scholarship Organization
September 23, 2017
(interviews will be held on September 22)
Farish Theater - Lexington Public Library
(140 E Main Street)
Director: Lisa Fath
3964 Boston Road
Lexington, KY 40514
859-321-3600 (Lisa)
(Open Statewide)
(Includes Outstanding Teen division)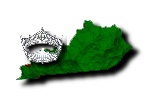 For more information about the Miss Kentucky Scholarship Pageant please contact us at:




Miss Kentucky Scholarship Pageant

Attention: Dr.Ashley Anderson, Executive Director

P.O. Box 22923

Louisville, KY 40252

Email: misskentuckypageant@gmail.com

Visit the official Miss America website: