We will be posting photos and updates here to keep everyone informed of the latest happenings and Ashley's performance at the 2008 Miss America's Outstanding Teen Pageant. Please check back for details. Photos may take some time to load and you can click on most photos for a larger view.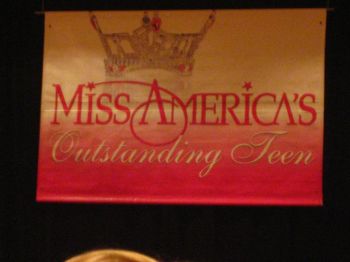 CLICK HERE FOR A VIDEO FROM THE PHOTO SHOOT
ASHLEY UPDATE: Ashley had her interview Monday evening and thinks it went great! She and her fellow contestants spent Monday morning at Bloomingdale's. Look for the slide show of the Tony Bowles photo shoot on YouTube sometime Tuesday. Ashley began preliminary competition Tuesday night with the Lifestyle and Fitness in Sportswear portion of the competition. Wednesday night will be her talent performance.
Ashley performed in talent on Wednesday night. The audience seemed to love the new routine. She will conclude preliminary competition on Thursday night with evening wear and onstage question.
CLICK HERE FOR TALENT REHEARSAL VIDEO
The third and final night of preliminary competition was held Thursday. Ashley competed in evening wear and on-stage question. Friday the contestants will participate in a sock hop and the finals will be on Saturday where the top 10 and new Miss America's Outstanding Teen will be named.